Jane Mahoney, Older Americans Act Consultant, has developed a "Toolkit" to assist community entities in starting caregiver support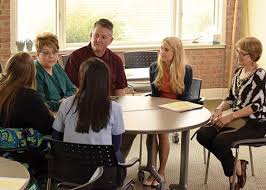 groups.  To access her information use the website https://gwaar.org/family-caregiver-support-group-toolkit_2.  Her introductory statement on the website is as follows:
Facilitating a support group requires patience, fortitude, and creativity. This toolkit provides helpful tools to get you started and keep you going as you work with caregivers in a group setting. Resources include:
Toolkit Support Documents provides various documents to assist in the facilitation of your support group.
Creating an Effective Support Group guides you through the preparation stages of starting a support group and also covers meeting format and how to handle challenging situations during the group meeting.
Support Group Topics provides a list of topics, possible speakers, handouts, and where to find the handouts.

You will also find a separate list of possible speakers for a Grandparents and Relative Caregivers (GRC) support group and an example of Support Group Guidelines.

Remaining headings are individual topics that you can cover at support group meetings. Each heading contains:

Topic handout for attendees and/or to place in your newsletters as an article on caregiving
Customizable postcard explaining the discussion topic to send to members
Good luck as you work with caregivers in this important and effective way!
The website includes links to the following support:  Toolkit Support Documents, Creating an Effective Support Group, Support Group Topics and Support Group Guidelines.